TURBORUNNER™
ATLAS Productos & Servicios S.A.S
TURBINE POWERED
COMPLETION REAMING SYSTEM
The Turborunner™ is a high-speed reaming system that enables Completions teams to land completions at target depth and safeguard valuable completion assemblies.
The unique design combines high speed rotational reaming with very low operation pressure and completely isolates the downhole assembly from the dynamics and vibrations of the reamer shoe. This allows the turbine to slow or even stall without any reactive mechanical torque or uncontrolled pressure spikes being transferred to the completion or the liner hanger.
There is no need to rotate the completion string, protecting low-torque or low strength completion equipment.
A rugged and reliable tool, the Turborunner™ ensures completions access all planned reserves whilst significantly reducing Flat Time and the risk of off-depth completions.

No pressure spikes – protecting the liner hanger

Open flow motor – reducing surge

High dog leg capability

Provides the wiper trip while running the completion

Low flow rate - minimizing ECD

Low vibration – protecting completion components

Lands the completion on depth
HOW IT WORKS
Four steps to first time placement.
1) Run completion with Turborunner™.
2) Ream and wash through obstructions.
3) Continue to target depth.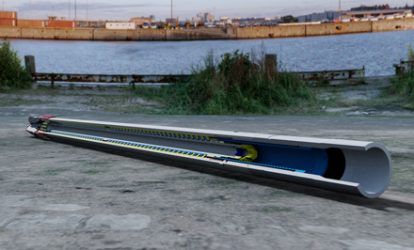 4) Cross section of the Turborunner tool detailing the drive shaft and turbine power sections.
OUR TECHNOLOGY IN ACTION…
TURBORUNNER 500:
Rig Floor Test before RIH
Turborunner rig floor test in the Middle East to check rotation, pressures and bearing lubrication.
Top Sub OD A: 5.118″ / 130.00mm
Body OD ØB: 4.921″ / 125.00mm
Stabilizer OD C: 5.719″ / 145.26mm
Reamer Bit OD D: Client specified
Overall Length E: 9.390ft / 2.86m
Tool weight: 353lb / 160kg
Top Connection: Client specified
Dog Leg Severity: 32° 100ft / 32° 30m
Burst Disc Flow Area: 1.49in² / 962mm²
Performance
Flow Range: 0-336gpm / 0-1270lpm
Max Torque: 670lb-ft / 92daNm
General characteristics
Top Sub OD A: 7.656″ / 185.00mm
Body OD ØB: 7.087″ / 180.00mm
Stabilizer OD C: 8.219″ / 208.76mm
Reamer Bit OD D: Client specified
Overall Length E: 8.999ft / 2.71m
Tool weight: 688lb / 314kg
Top Connection: Client specified
Max Dog Leg Severity: 39° 100ft / 39° 30m
Burst Disc Flow Area: 1.49in² / 962mm²
Performance
Flow Range 0-500gpm /0-1,893lpm
Max Torque 850lb-ft / 976daNm
Formulario de contacto:
Llena el siguiente formulario y un asesor te contactara lo antes posible