RAPID DRILL-THRU
CASING RUNNING SYSTEM
The Turbocaser™ Express is a high-speed reaming system that enables drilling teams to land casings and intermediate liners at target depth.
The unique drillable turbine can be drilled through in minutes after normal cementation in one cost effective operation.

Lands casing and liners on depth

No string rotation

Eliminates wiper trips

Low flow rate

Drill thru and drill ahead
HOW IT WORKS
Four steps to first time placement.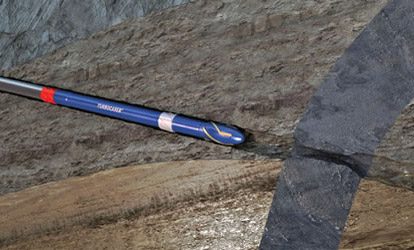 1) Run casing/liner with Turbocaser™ Express.
2) Ream through obstructions.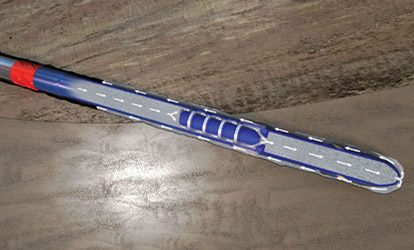 3) Cement casing and reamer in place.
4) Drill-thru into new hole.
TURBOCASER™ EXPRESS
Drill Thru Validation Program
A cemented Turbocaser Express drill-thru test with PDC bit.
TURBOCASER ™ EXPRESS
Flow Rate Test
A Turbocaser Express flow thru and rotation test.
General characteristics
Top Sub OD A: 7.717″ / 196.00mm
Body OD ØB: 7.987″ / 202.86mm
Stabilizer OD C: 8.219″ / 208.76mm
Reamer Bit OD D: Client specified
Overall Length E: 12.326ft / 3.76m
Tool Weight: 662lb / 300kg
Top Connection: Client specified
Dog Leg Severity: 14° 100ft / 14° 30m
Drift 6.159″ / 156.44mm
Burst Disc Flow Area: 1.71 in² / 1,103mm²
Performance
Flow Range: 0-420gpm / 0-1588lpm
Max Torque: 870lb-ft / 120daNm
Descargas en PDF
Hoja de Datos Técnicos TCE700 Imperial
Hoja de Datos Técnicos TCE700 Métricas
General characteristics
Top Sub OD A: 8.980″ / 228.00mm
Body OD ØB: 8.980″ / 228.00mm
Stabilizer OD C: 9.594″ / 243.69mm
Reamer Bit OD D: Client specified
Overall Length E: 13.840ft / 4.22m
Tool Weight: 960lb / 435kg
Top Connection: Client specified
Dog Leg Severity: 20° 100ft / 20° 30m
Drift: 6.791″ / 172.50mm
Burst Disc Flow Area: 1.71in² / 1.103mm²
General characteristics
Top Sub OD A: 10.396″ / 264.05mm
Body OD ØB: 11.181″ / 284.00mm
Stabilizer OD C: 11.929″ / 303.00mm
Reamer Bit OD D: Client specified
Overall Length E: 12.810ft / 3.91m
Tool Weight: 1,372lb / 622kg
Top Connection: Client specified
Dog Leg Severity: 26° 100ft / 26° 30m
Drift: 8.559″ / 217.40mm
Burst Disc Flow Area: 1.71in² / 1,103mm²
Performance
Flow Range: 0-500gpm / 0-1,893lpm
Max Torque: 2,7328lb-ft / 275daNm
Descargas en PDF
Hoja de Datos Técnicos TCE958 Imperial
Formulario de contacto:
Llena el siguiente formulario y un asesor te contactara lo antes posible